Hey! Thanks for dropping by.
I am an India-based writer who's published four novels and more than two hundred articles in the fourteen years she's been writing. I write speculative fiction (fantasy, horror, SF, you name it), in all kinds of mediums and styles.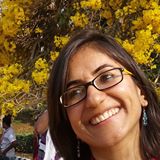 As you read this, I am working hard on a series about Anantya Tantrist, a tantric detective who keeps getting just about the most gruesome supernatural cases to handle. Book 1 of the series, Cult of Chaos is out with HarperCollins India. It's got some rave reviews and I can't wait for the second book to hit the markets! I've also written two graphic novels: Krishna is selling like melting chocolate cakes and has been reprinted many times over. It's also a library favourite in schools and is on the CBSE Must Read list for schools. The Skull Rosary, a series of black and white shorts on Shiva was nominated for Best Writer and Best Cover in Comic Con Awards 2013. Head to the books section for more on my speculative fiction.
I continue to write articles as a journalist for Livemint.com on consumer technology and health, columns for Discover India, Swarajyamag.com, Scroll.in, Dailyo.in and HuffingtonPost.in. And I do communication and social media projects with NGOs who're doing culture and education related work. Check out my Wikipedia or Goodreads page for more.
In this website, I collect stories from my life and other places. You're most welcome to browse through.
• Witchery of writing records secrets of penning down books and the things I've learnt about the publishing industry.
• Creative chats is full of stories of meeting creative writers and artists who have the magic to change lives.
• Tall Tales is a project where I retell myths and folklores I've heard during my travels.
• Life's loose pages is full of spurts of poems, requirements for social causes that I am associated with and  untaggable stuff that I feel like recording now and then.
•  What I'm upto is exactly what it claims to be. Find out what I'm doing nowadays!

Or read what the media is saying about my books.
When I don't write…
I watch morbid movies, have passionate discussions on arbid questions of life, read mythology, listen to people's life stories or go take a hike, literally. I get inspired by things like gulmohar trees with its red flowers, a dead moth, steaming hot cup of green tea, the beautiful flight of a crow, weathered lips of an old woman, the darkness in a blue sky or a crumpled news piece.My family, husband, muse (who has the uncanny habit of dropping by when I am sleeping) and keyboard help me in bringing these stories out of my head and on to the screen.
What I love reading…
My heart thumps with excitement by written works of Shakespeare, Ursula Le Guin, Roald Dahl, Lewis Carroll, Isaac Asimov, Terry Pratchett and comics by Neil Gaiman and Alan Moore. Right now, I'm exploring a sub-genre of science fiction, called feminist science fiction. If you tell me a new author in that one, I will send you a book from my end!
Interviews in Media
Deccan Chronicle, February 2015
Citizenmatters.com, 16-Jan-2014
Livemint.com, 21-Jan-2014
Ending with a few pictures from my life. For more, head to my Instagram feed.
Am always open for a chat. Connect on Facebook, Twitter, LinkedIn, Google+, Instagram, Goodreads or get stories and exclusive giveaways in your inbox. You get one email in a week, that's it.