Earlier this year, I signed on a piece of paper with a trembling hand and suddenly, I was an author with a series contract with Harper Collins India. My transformation left me with nothing but a sense of giddiness and sweaty palms. As the elation vanished, I realised that I had only written one of the three books promised to the sweet gals at HC so I went back to work, keeping the contract carefully plasticated somewhere in a forgotten drawer.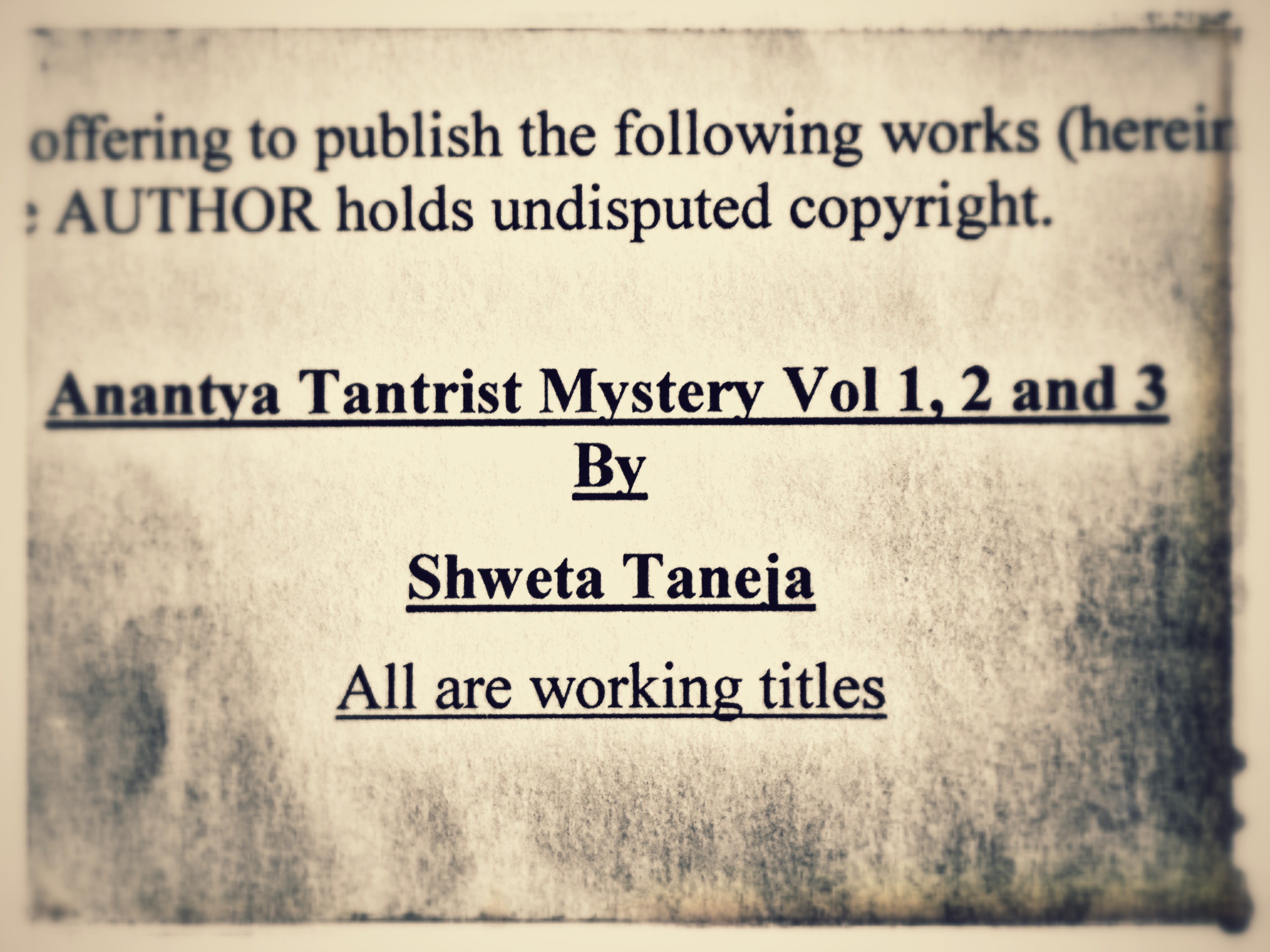 Which is why I completely forgot to tell you all, my readers, friends and those who've rooted for me (or would like to now) about how it happened. So here's the tall tale.
For my first book, The Ghost Hunters of Kurseong, finding a publisher had been quite a breeze from what I had been expecting (1. Get rejections from all major publishers 2. Put it up online as an ebook and then figure). When the wonderful editor at Hachette India showed interest on a direct submission to their website (without an agent, something that they do for one or two titles a year. Pitch to them, peeps!), I looked at the email, reread it, rubbed my eyes and did a jiggle. From the first interest to the contract was a long marathon of three months full of butterflies in the stomach. But the contract happened and I thought, wow, this was quite okay. Not as bad as the horror stories of 100 rejection emails and all that.
Then Anantya Tantrist happened. My first novel for adults with a tantric heroine who is such a badass that my cheeks flame up sometimes when I am writing her story. Her world is brutal and so is her attitude. But I was more confident with her. Hachette India had already said yes to one of my books, so selling the second should be better? Yes?
NO.
I realised that with a kick in the butt. She and her world were (and still are) a series character in my head. I already wanted to write book 2 of her story and then book 3 and then you know how it goes. But already, rejections were piling up like bad advice from astrologers. They are still piling up by the way, only they come from other countries now. There were so many reasons that The Cult of Chaos, the book one in Anantya Tantrist's series, got rejected. Most of them were polite and polished and told me nothing. I had already given the book to an editor at HC (Let's call her ED) who I knew would loved SFF titles (having already stalked her online). She was sweet and Anantya liked her too. I was quite keen on her. But there was no yes till now.
Meanwhile, I fished out a list of agents and sent my book to them, panic building up in me. It had been months. I had moved on to launching my other books, but it had been months! WritersSide was the fastest to respond back and take my book on. They did that in a day (I am still surprised about that one). WS helped me by communicating with HC again and sending it to a lot of other publishers who didn't have any general submission email ids. But I was most keen on ED, because Anantya kept on telling me that she liked her and if you know Anantya, you will realise, she seldom likes people. Since Anantya wasn't letting me be, I accosted ED at Bangalore Lit Fest last year and told her what Anantya was insisting I tell her. That she's the editor for Anantya's story. Kudos to ED, she took it with a straight face, even though it was quite sunny. I guess she's used to writers of all crazy kinds. HC had some doubts about the violence in the books, which we figured, discussed and finally, that trembling moment came for me when I signed the three-book contract. It took eight months from when I finished The Cult of Chaos. The book will be released in November 2014.
What this has taught me
– You need to find the right editor for the book. ED was right for the book, even though she had initial doubts. She loved the idea of Anantya and her world. If the editor connects with the book, she will fight the battle for your book from the beginning (getting you a contract) to the end (speaking about it at panels with sparkles in her eyes). So right editor, peeps, very very important. And that begins with focusing on people and not on the publisher. ED, thanks btw!
– I always wanted to write more than one books about Anantya, but when I started to find a publisher for her, I didn't think of pitching the first book as a series. I know, kinda dumb, but I don't think future too much. There WS helped me refocus. They insisted on me writing briefs of possible stories for Books 2 and 3 (which I surprisingly managed on a holiday). That way, I am sure that I get three of Anantya's titles published even if Book 1 fails to make a mark (which I hope doesn't happen). But it gives me insurance of some kind about the three books. Even though I had to take lesser advances for book 2 and 3 (because the publisher's risk increases). WS also helped me streamline the contract and make is bare minimum so that I retain most of my rights and can sell them somewhere else.
– All of this: the pitching, the marketing, workshops, conferences, panels, the selling, the media, internet, social media, all of it distracts you from the one thing you started with: Love of writing. It's important to switch off after you've got a contract or after the book is out. Switch off and keep writing (goes under notes to self). Again and again.
Book 1 of Anantya Tantrist series releases in November 2014. Meanwhile, visit Anantya Tantrist's blog or follow her on Facebook or Twitter or Google+