Earlier this year, I spent three weeks at the lovely IIT-Kanpur campus all thanks to some work my husband had there. There were many new experiences involved in it for me, including living on a campus, cycling from home to work and interacting with faculty and students who talked more engineering and science that philosophy. (I will be writing a more detailed blog on these experiences soon)
After a couple of weeks, desperate for some shot of creativity in that island of facts, I sought the company of English Literary Society at campus on Saturday evening, run by enthusiastic bachelors' students there. It was a marvellous hour spent with about twelve of them, in a round table discussion on what believing in science means to them, how they feel once they've entered this 'heaven' of Indian education and delving into philosophy of what truth means and if it's but a perception. Informal, full of riveting discussion and super fun.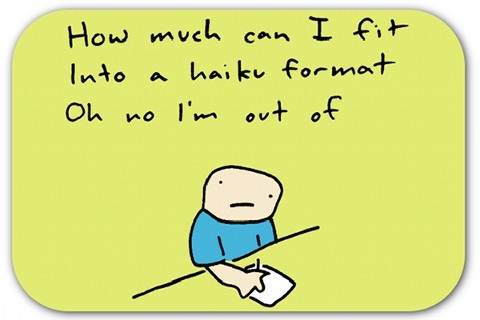 So I was quite surprised to see an email from them earlier this week, asking me to judge a Haiku competition which they are hosting at campus right now.  I wasn't sure about it since I've not written Haiku since a long, long time and studied the short poetic form so very effectively used by the Japanese writers, very briefly in my masters of English. I am wordy and usually write long forms.
After a few email exchanges with them though, I had to say yes, since they seemed convinced about their choice. I have had a slight alien relationship with competitions in general, having written on how winning is important for little kids and also on how competition is perceived as healthy in our modern society. So it would be a test of myself, to see what the whole judging process will bring out not only in those who are entering this competition, but also in me, who is selecting the 'better' entries.
Let's hope the ones that are 'judged' won't come back on me, screaming vengeance. Always a risk in our rather competitive society, isn't it? I will be posting all the entries I like on my blog later and the reasons that I chose them (if my instinct is kind enough to grant them). Till then, ciao!
(Image source, with thanks)