In this graphic novel, I have tried to amalgamate Krishna's tales from the Bhagawata Purana, Hari Vamsa, Mahabharata and folk tales about Hindu's favourite blue god. The graphic novel is a 150-page whopper and great for anyone who wants to read his complete story. Pick it up for the amazing blue-tinged art by artist Rajesh Nagulakonda. He has done a fabulous job on this.
Reprinted many times over, available in UK, USA and Canada. Remains a bestseller and is part of CBSE and Kendra Vidyalaya Recommended Titles.
---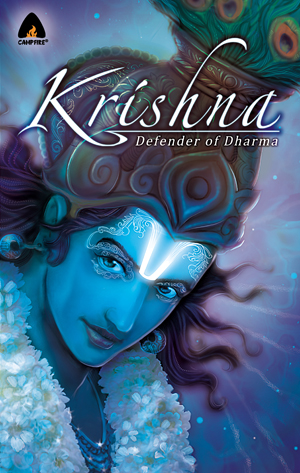 Evil is back on earth, this time in the guise of Kansa, the tyrant king of Mathura. To vanquish him, Lord Vishnu is born again in his eighth avatar – Krishna, defender of dharma. Since his birth, Krishna has to fight evil in the form of monsters, demons, and ogres. But as he grows up, he observes that the real struggle of good against evil pits him not against shape-shifting monsters, but kings, princes, and brave warriors. Will Krishna be able to triumph over the darkness of greed and arrogance that has taken over the land? Will he be able to restore peace and dharma? The tale of Krishna is a journey through awe-inspiring magical lands – the breathtaking forests of Vrindavan, the magical city of Dwarka, and the arid battlefields of Kurukshetra – as he conquers evil through his wisdom and courage to put mankind back on the path to righteousness.
Buy from Campfire, Flipkart or Amazon
---
Reviews
"Quick glimpses of one of the world's oldest and most dramatic stories, with at least hints of its religious and moral underpinnings." -Kirkus Magazine
"The quality of the book is good but Lord Krishna is portrayed as a mythological character while on the contrary, its the other way round. Krishna is the truth. Even science has come to accept that the city of Dwarka did exist and is supported by evidences at several other sites. There are several anomalies in the book, including showing Lord Krishna emerging from Lord Vishnu's navel. Lord Balrama is shown wearing orange-brown dress. But its blue colour and he doesn't have a mustache. The artwork is kind of anime styled. Indian and natural would have been better." Official review from ISKCON by Yudhistir Govinda Das.
"I went through your comic book based on Krsna. It's simply fantastic. You have done a great job towards the young generation by writing this masterpiece. Congratulations!" – Adi Yogi Das, Theatre Artist, ISKCON, Delhi through email.
"I read your Krishna, a signed copy from Comic Con Bengaluru. What to say. It's really awesome. My favourite is the Mahabharata part, where you manage to maintain our culture greatly. Please keep the great work and all the best for your further work…" – Dr Nandan Das, Physiotherapist, Chennai through Facebook message.
---
TRAILER